AL Blog ~~ December 10, 2012 ~~ What I Want for Christmas
As little kids, my sisters and brother and I loved to sing "All I Want for Christmas is My Two Front Teeth," and for years, it seemed, one of us was missing those two teeth during the holidays.  Of course, we didn't *really* want teeth—we knew the tooth fairy would appear and leave us a treat of some kind of treat under our pillows (my favorite was a shiny fifty cent coin, which we considered PRIMO.) These memories sprang up last weekend when I heard the old song on the radio, just as I was going to See's candy store in Palo Alto for my once-a-year shopping spree, and as I picked out boxes of chocolates, peanut brittle, fudge, and other way-too-sweet confections I thought, "So what DO I want?  What would I like to see under my tree?" 
It didn't take long for me to come up with an answer.  While I buy a lot of comics and graphic narratives, this is a very big year for a very big book and for one of my all-time favorites:  Chris Ware's long-anticipated Building Stories is now at all our local bookstores, and it is my choice for best ever gift this year. You need to see it to believe it, since it is unlike any other graphic narrative I've ever seen.  It comes in a sturdy 11 ½ by 16 ½ cardboard box:  the word "stories" in capital letters appear on the long sides (in Chris Ware signature blue) the word "building" on the short top and bottom ends of the box.  Looking at the cover of the box eventually reveals the words "Building Stories," with the "i" in stories represented by an eye.  (You can check out the bottom of the box for yourself.)  I stared for a long time at the cover while I sat in a corner of The Four-Eyed Frog (my wonderful independent bookstore in Gualala, California – check out their website and you'll see that they deliver for free and offer lots of other services).  And then, of course, I bought my own gift and rushed home to explore.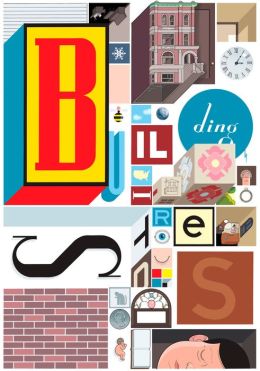 –Cover of the box that contains Chris Ware's Building Stories
What I found inside were fourteen different pieces—pamphlets, leaflets, booklets, broadsheets, a folded-in-two game board, all drawn in Ware's obsessively meticulous style and all waiting to be put together, taken apart, built and rebuilt, to tell stories. 
The principle holding all these pieces together is architectural:  together, these stories tell stories of a 98-year-old building in Chicago.  Ware knows this building inch by inch, room by room, and readers will learn to know it too.  My first time through the contents of this box, I couldn't help thinking of the collaborative project Ware did with Ira Glass:  Lost Buildings is a book and DVD that tell the story of one Chicagoan's love of Louis Sullivan buildings and of his lifelong attempts, first to save them from the wrecker's ball and later to "save" them metaphorically through detailed documentation.  Ware has an eye for architectural detail and for seeing buildings from the skeletal bones out; he doesn't seem to miss a single thing.  And he makes me not want to miss a single thing either.
So here I am, well before the holidays, enjoying my present to myself.  It feels like play, like the kind of imagining I did as a child playing with homemade paper dolls, only so much more so.  Ware's work (which is so often bleak and despairing; a class once voted Jimmy Corrigan, the Smartest Kid on Earth the world's most depressing story ever told) continues to fascinate me, precisely because it reveals the power of story telling, story making, story building in our lives.  In his review of Building Stories, Douglas Wolk calls a "magnificent new graphic novel" and comments on its "extraordinary command of time and pacing" (and I would add "space" as well).  Building Stories is all this and more, and it will keep on yielding stories as each reader enters this world-in-a-box. Enter it soon – and enjoy and learn from it, as I am doing.